BREAKING: School Closed Jan. 18 Due to Inclement Weather
Projected low temperatures and heavy precipitation lead to a snow day for Douglas County School District.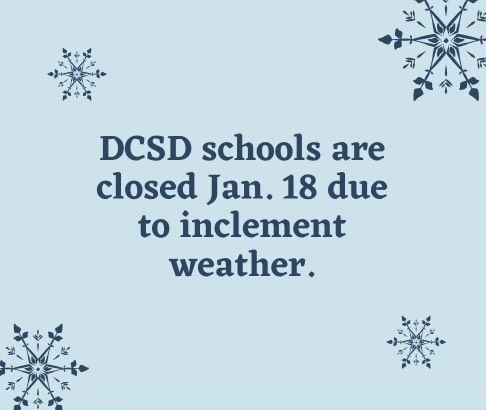 The Douglas County School District (DCSD) school board announced a school closure for Jan. 18 on Jan. 17. The district sent out an email announcement at 6:39 p.m.
"The Douglas County School District will be CLOSED on Wednesday, January 18 due to forecasted inclement weather conditions," the announcement said.
"I'm grateful for the snow day because it gives me time to catch up on my homework," Sarah Myers '24 said. "I'm happy that the district called it because it's our first one this year and I think it's safer to stay home, especially if you drive yourself to school."
According to National Oceanic and Atmospheric Administration (NOAA), the Douglas County area is expected to accumulate five to nine inches throughout the night of Jan. 17 and accumulate another two to four inches Jan. 18.
"I'm excited to catch up on work, actually, so this is a gift of time for me," French and Spanish teacher Alexis Savas said. "I have over 100 scholarships to review for my part-time job, and I will also have time to finish my Fulbright application. Additionally, I can get my homework done for the class I'm taking this quarter!"
Following the closure, Thursday, Jan. 19 will be an even-period class day, with an all-period schedule – modified for the Winter Week assembly – on Friday, Jan. 20. The Jan. 19 spirit day, "Anything But a Backpack Day," remains unchanged, and Winter Week spirit shirts will now be sold in the Commons all-day Jan. 19 to make up for the lack of days they were available.