Winter Break Breakup
Students and staff discuss their excitement and stressors of returning to school in the new semester.
Hundreds of students roam the halls, sleepily talking amongst themselves. Their brains focus on trying to stay awake when a loud ringing bursts through the halls. The students drag themselves to their first period. After two weeks of sleeping in, staying home or going on vacation, school starts bright and early, at full force. 
"[Starting classes was] pretty hard, like you have to start all over again," Mon Intongk '24 said.
With so many classes handing out homework, students' assignments pile up along with stress and exhaustion. According to a poll conducted by @rcrockmedia's Instagram on Jan. 26, out of 111 students, 30 percent of students say they are spending three to four hours on homework per night. 10 percent of students say they spend five or more hours on homework. Raegan Synk '23's days have already been filled with work from her classes. 
"So far this semester, it's been crazy. I've already gotten an essay that was due today, and I have projects already," Synk said. 
With classes and teachers changing, students have to find their way through a new schedule. Their daily rhythm has to adjust to this semester's new normal. Harper Bezemik-Aguilar '26 has to navigate a new schedule now that her teachers and classes have changed.
"It's been a little confusing, since I've been so used to having my classes from the first semester, but it's also been really fun. It's nice starting fresh with new classes," Bezemik-Aguilar said. 
Although starting classes can be difficult, there is still a bright side to going back to school. Seeing friends can brighten up the stress of returning. Nicholas TeSelle '25 was excited to catch up with his friends after break.
"It feels great, I honestly should have texted with them more while we were on break but it was really cool to see everyone again, " TeSelle said.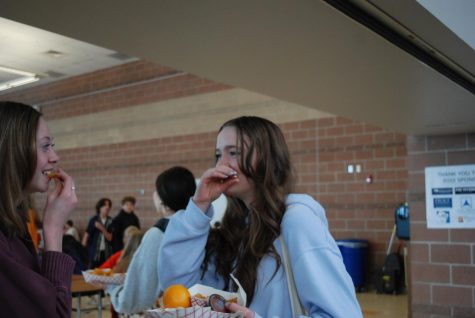 Switching classes can offer benefits, as students could get new classes with friends or without people they didn't get along with. But even without switching many classes, students can still keep up good spirits with friends. Sophia Bobier '24 only has friends in a few classes, but listens to music to keep up a good mood.
"I have a friend in one of my classes, it's very nice to have them there. In my other classes I don't really know anyone," Bobier said. 
After the freedom of break, faculty members also have to return to their jobs and teach. However, math teacher Karen Bukowski has a positive attitude and looks forward to teaching. Bukowski is prepared to start the new semester with her new classes. 
"I am really excited to come back to school and for a great spring semester. I have excellent students and I really quite missed them over that break," Bukowski said.