Where's the Snow?
Normally by this time of year the mountains are filled with skiers and snow lines the ground. However only a few mountains are opened and snow lovers are finding it hard to get on the mountains with such little snow.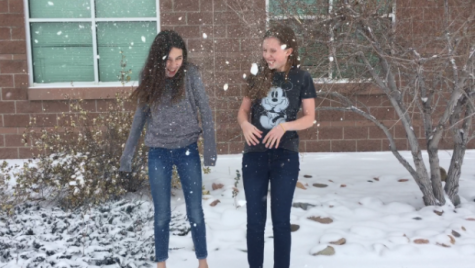 Throughout the year ski season usually starts from mid October to early November. However this year the lack of snow has pushed these opening dates back toward late November and even early December.
     In mid November temperatures reached 80 degrees, topping the previous record set in 1941. With such high temperatures, skiers' plans are being delayed. Some students find the little amount of snow disappointing.
     "I usually go to Breckenridge every weekend and with the lack of snow everything has been pushed back," Claudia Lemire '19 said.
     "I don't go skiing if there is no snow and it's upsetting that there isn't much snow because I want to ski." Jackson Ross 18' said.
     Others don't seem to be affected as much but are still disappointed that it hasn't snowed as much as usual. Some students go to the mountains only a few times a year depending on the amount of snow. Most of the bigger snowstorms don't come until late December. Now that November has come to an end, those who wait to ski are starting to become concerned.
     "I usually only ski twice a year. We only go skiing if there is a really big snow and then we will go the next couple of days. I am very sad it hasn't snowed because I love snow. If this weather keeps up I don't know if we will ski at all this year." Kathryn Arnett 20' said.
     Though such little snow isn't prefered, some seem to enjoy such a small amount of it. With a lot of snow comes cold weather and bad drivers so to certain people the weather is great.
     "I ski at Winter Park and we have not gotten that big snow storm yet so I am still waiting. I guess I'm happy that it hasn't snowed much because I don't like the traffic jams." Sherrie Cao '20 said.
     With little to no snow on the mountains of Colorado, snow bunnies are starting to worry and are wondering where is the snow. However not too soon the slopes will be covered with white sparkling snow and skiers and snowboarders will be heading to the mountains. With the delay of snow Colorado is planning to get less than the yearly average, but big storms are making way soon.