FRIDAY FACULTY FEATURE: Explore the Inner Workings of Christina Marcilliat
A glimpse at Health teacher Christina Marcilliat's, life inside and outside school.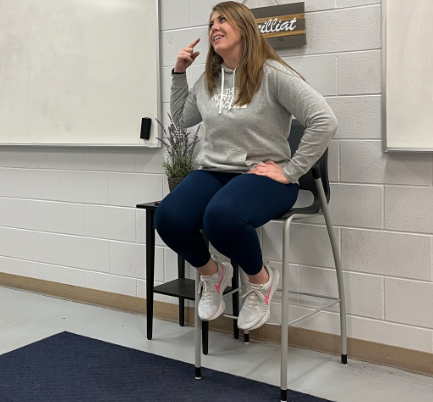 As you walk into Christina Marcilliat's classroom, she greets you with a warm good morning and a genuine smile. You take your seat and look upon the board to see the daily question. The jokes and interactions allow you to relax and enjoy the class as it begins.  
Q: How long have you been teaching and how long have you been teaching at Rock Canyon?
A: This is my 14th year teaching, and seventh year at Rock Canyon.
Q: Why did you choose to teach Healthy Decisions?
A: My degree is in health. I kind of fell into teaching and realized I really liked it.
Q: What's your favorite book, movie or TV show?
A: I'm currently I'm watching "In the Dark," which I hated season one, but I really like seasons two and three. So I'm gonna say that one. But I'm willing to admit this just because I'm okay with it. I like really bad dating shows like "The Bachelor."
Q: What's your weirdest teaching story?
A: Oh gosh, there are a couple of embarrassing and shocking ones. I got accused of breaking a student's nose because I accidentally tripped into a door that then pushed into her face. True story. I actually did trip. She actually did break her nose. 
Q: Do you have any pets?
A: I have two Shelties, their names are Dexter and Boomer. I call them Dax and Boo for short. 
Q: What's your favorite trip you've ever been on and why?
A: My dad and I did a road trip to national parks through Utah and Arizona. Zion was amazing, so so good.
Q: What's your craziest family story?
A: My dad's the oldest of eight. So all of the siblings, when they get together, basically relive their glory days through the 70s days. It's amazing that they made it out alive with some of the ways that they acted, but I did not carry on that tradition. I am a square. I'm a vanilla type of ice cream, I color inside the lines. 
Q: Are there any foods you like or dislike? 
A: I'm allergic to bell peppers. So that's a big one. I had nose surgery, and I didn't like avocados, but then I had sinus work and magically it's like my favorite food now. 
Q: Do you have a guilty pleasure movie, or some movie that you'll watch anytime?
A:  There's this super, super cheesy movie from the early 2000s called "Because I Said So," with Mandy Moore back when she was like an actual pop singer. [It's] a terrible movie, but I've seen it so many times. I know nobody has ever heard it either seen or heard about. It goes back to one of the original little heartthrob movies of the 2000s.