Pretty Pennies Penetrated
Tuesday, Jan. 15, honors chemistry students chemically burned out all the zinc content of four post-1982 pennies in Dave Ferguson's chemistry lab, room 4102.
The goal of the lab was to figure out how much baking soda would neutralize hydrochloric acid. Baking soda is a base, and bases can cancel out acids and vice versa. If the right amount of base was added to the amount of acid in the beaker, it should have been neutral.
In order to do this, students reacted zinc pennies in a beaker of hydrochloric acid, figured out how much of the acid was left in the beaker. They then proceeded using balanced equations to equate the amount of baking soda needed to neutralize they hydrochloric acid left in the beaker. Once the calculated grams of baking soda were added to the hydrochloric acid, students held their beakers under a pH tester.
The term pH level refers to the acidity or baseness of a liquid or aqueous solution (a solution that dissolves in water). The neutral pH level is 7. Students' goal was to add just the right amount of baking soda to the hydrochloric acid to neutralize it– get it to pH 7.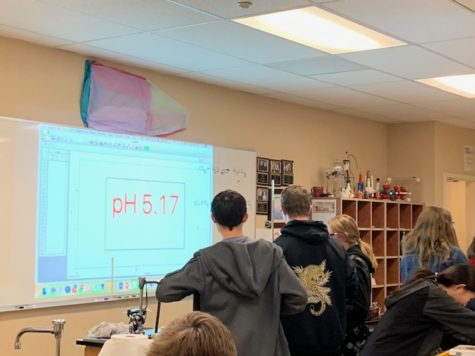 "…We got a 5.2 pH level, and we had to shake the beaker a whole lot in order to reach the number, and we got all excited and very happy once we reached the level," Brooklyn Romero '21 said.
None of the groups in Ferguson's period 2 chemistry class reached pH 7, which Ferguson reported could have been due to a miscalculated measure of acid at the beginning of the experiment. Even if students had the correctly calculated amount of baking soda that would need to be added, if their initial amount of hydrochloric acid was off by even 1 milliliter, the reaction would not work properly, Ferguson said.
"The reaction overall was really cool, and it was an interesting way to put all that we learned into a lab," Aspen McDonnel '21 said.
"The lab was fun and a good amount of confusing enough to make us want to see the outcome. I loved the pennies and how flexible they were at the end. They were super fun to bend in half," Romero '21 said.