Takeaways from the 90th Annual Rocky Mountain Showdown
The Colorado college football season hits the ground running at Sports Authority Field Aug. 30-31.
The Colorado Buffalos took on the Colorado State Rams in the 90th annual Rocky Mountain Showdown on Friday, August 30. The Rocky Mountain Showdown is the highly anticipated game to kick off college football in Colorado.
The Buffs were favored to win the game by 12 points before kick-off. CU had won the past four years and they looked to continue their streak. CSU looked to come in and start the year off with a win and break CU's streak.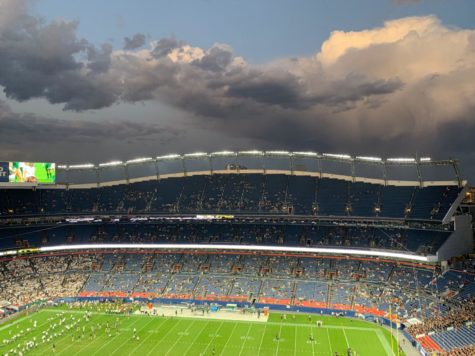 "I was rooting for CU because both of my parents went there and I have been a fan since I was little," Devon Morris '22 stated.
Both teams came out firing at the beginning, and the game was very close as CU lead 24-21 heading into halftime.
CU came out scoring two touchdowns in the third quarter to make the score 38-24. Then, in the fourth quarter the flood gates opened and CU scored two more touchdowns.
The final score of the game was 52-31 with CU winning for the 5th year in a row.
CU's senior quarterback, Steven Montez threw for 232 with two touchdowns.
CSU's junior quarterback, Collin Hill threw for 374 yards, three touchdowns, and two interceptions.
CU's sophomore running back, Alex Fontenot had 19 carries for 125 yards packing along three touchdowns.
The most anticipated player for this game was junior wide receiver from CU, Laviska Shenault Jr. Shenault has been claimed as one of the best wide receivers in college football and he is even in contention for the Heisman Trophy, the most valuable player for college football.
Shenault did not disappoint with three receptions for 48 yards. He also caught a big pass for a touchdown to help break the game open for the Buffs.
It will not be surprising to see Shenault in a NFL jersey next year.
CU once again won the Rocky Mountain Showdown for the 5th year in a row. Next year, CU will once again take on CSU in the Rocky Mountain Showdown but this time it will be at CSU's home field in Fort Collins.