One of the Guys
Josie Manning is the kicker for the Rock Canyon Football Team this season, but the kick is: she is a girl.
Softball, volleyball, field hockey, cheerleading, soccer and football. All of these seem like women's sports right? Except for football, or so you thought. Josie Manning '22 has been kicking for the football team this season.
     Manning had been kicking the soccer ball around since she was five. This last year, she decided to kick the bucket on soccer and start up football. She has been starting on JV and kicking back on the bench for varsity. 
     "I was playing soccer for a while and wanted to change it up, so I decided to try out for the football team because I can kick," Manning said. 
     Around school, people have been swept up and surprised with the news that their kicker is a girl. "People are really surprised when I tell them," Manning said. "It seems like every knows me because I'm the girl kicker." 
     The team has made Manning feel at home this season so far. 
     "We have taken her under our wing…We have adopted her into our brotherhood," Defensive End Gannon Schafer '22 said. 
     Manning has become one of the guys now that she is kicking for the team. She has already played five games, kicking for JV and dressing for Varsity. 
     The brotherhood stands up for Manning and supports her in everything she does. In the games they will cheer for her, pick her up, and put the other team down if they hurt her.  
     "If she has a big hit we hype her up… if someone one is messing with her we will take their head off," Schafer continued.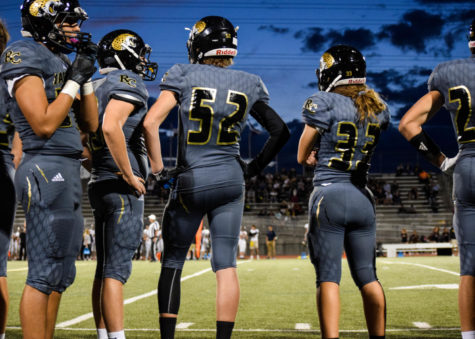 Other than the required differences like locker rooms, Manning believes there is no difference between her and the men on the team. 
     "There is not much difference, I'm just one of the boys," Manning said. 
     Manning lives up to her expectations being perfect on all PAT attempts and adding on two tackles and one forced fumble. 
     The team has taken Manning in and she's played to expectations this season. Manning hopes to have a successful and fun for the rest of the season.
     "At the end of the day we just want her to have a good time and enjoy her time playing," Schafer said.
     Students have had a positive attitude about Manning being able to have this opportunity. Students have continually praised Manning for being able to be the kicker. 
     "I was kind of surprised at first, but props to her for going out and trying out for the football team," Bella Acker '22 said, "I find it cool that she does what she wants and doesn't care what people think."
     "I find it very cool that she is the kicker…very good for her," Chloe Jarrett '22 said.
     The football team still has four more games left to play. That's four times to go out and support something you don't see everyday, a female kicking. Manning hopes to end the season on a kick.
Originally published in the Rock's October 30 print issue. View the electronic version of the issue here.