Tandoori Flames is on Fire
What used to be India's Clay Oven in Littleton, CO is now Tandoori Flames in Castle Pines, CO.
My mom recommended that we try out the new Indian restaurant across the street because she loves Indian food. So we called Tandoori Flames and put in our order. When we entered the restaurant to pay, a rich aroma of spices washed over us like a tsunami. We paid and went back to sit in our car and restlessly await the delicious meal they prepared inside. When the employee brought our food out to us, the mouth-watering, savory scent instantly filled our car. It was a long five-minute drive back to our house; enticed to start eating in the car.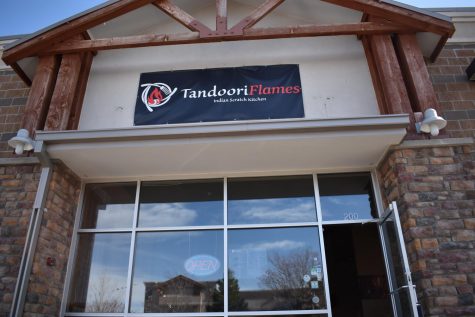 Recently opened earlier this year, the family-owned Tandoori Flames now is open to curbside pick up and take out. Even during "safer at home", customers can enjoy fresh food that feels homemade without ever leaving their cars.
This Indian kitchen caters to everyone –from meat-eaters to vegans, from 'spice-aholics' to those with gentle taste buds, from the gluttons to the gluten-free– everyone is sure to find something that fits their taste. Their different made-from-scratch meals on the menu serve anyone's unique preferences.
"We have a real charcoal clay oven and we make everything fresh," Tandoori Flames part-owner Ruby Singh said.
A local, family-run, made-from-scratch kitchen is an exciting addition to the community, and a better option than fast food. Inside, you can see the kitchen and the family members all working hard to prepare people's meals. Watching the hard work that the restaurant puts in makes for a more gratifying dining experience than buying an unremarkable, impersonal fast food item of unknown origin. 
According to Singh, the most popular dishes on the menu are the Chicken Masala ($15.00), any type of Korma ($15.00 – $17.00), Chicken Tandoori ($14.00), any type of Saag ($15.00 – $17.00) and the Malai Chicken Tikka ($15.00). 
Personally, I enjoy the Paneer Karahi off of the Vegetarian/Vegan portion of the menu. 
About the Paneer Karahi ($13.00):
The Paneer Karahi is a blast of flavor and spices, but it's not too spicy for those who are sensitive to it. It's warm but not too hot that it would burn your tongue. Paneer is a type of cheese (a tofu-like consistency) that has been cooked into the curry to top off the rice. The yellow curry is a blend of soothing spices with peppers and onions cooked in. The Karahi is very filling, and I even saved half to enjoy later. 
To quench your thirst or to pair with a perfect meal, Tandoori Flames offers different kinds of soda-pop, Chai Tea, coffee, and lassi. 
About the Lassi ($3.00):
Lassi is a yogurt-based shake made with has a variety of flavors (Mango, Salty [which uses Black Salt as an ingredient], Sweet or Fresh Strawberry) and ice. It's thick, but not too thick that it can't pass through a straw– the perfect consistency. I tried the Mango Lassi, and it was of a perfectly smooth texture. I enjoy pairing the mango flavored Lassi with the Paneer Karahi, as the spices of the Karahi were easily washed away with the sweetness of the lassi.
When it comes to pricing, the restaurant's dishes are reasonably priced, for being made-from-scratch and fresh. The appetizers range from $5.00 to $6.00. All of the vegetarian and vegan options are $13.00. Flaming Tandoori Sizzlers (which is a meat cooked on skewers in the clay oven) range from $14.00 to $20.00. Dishes such as the Masala, Korma, Saag, Curry, Vindaloo and Karahi vary depending on the type of meat you choose (Chicken – $15.00, Lamb/Beef – $16.00, Seafood – $17.00). Biryani as a Rice Pulloa is only $6.00, while other types of Biryani (Chicken, Lamb, Beef, Shrimp or Veggie) are $16.00. Their specialties range from $15.00 to $23.00. Breads are $2.00 to $4.00. All desserts are $4.00 and drinks are $2.00 to $3.00.
Tandoori Flames is a family-owned restaurant, for families. In these next few weeks in self-isolation, I would recommend picking up and taking out a meal from Tandoori Flames to get a taste of India in your home. Check out their website and menu here.