Craving the Cup: Ziggi's Coffee
After only one week of business, this new, Castle Pines coffee shop is the only thing that students are talking about. Sick of boring, at-home coffee, people are quite literally eating Ziggi's up.
There's a new coffee shop in town and it's all that people are talking about recently. I decided to investigate, to see what all the rave was about. My mom and I pulled up to Ziggi's (7298 Lagae Rd suite a, Castle Pines, CO 80108), greeted by a long drive-through line. The line went by fairly quickly. At the speaker, we were greeted by a large menu and a cheery barista. We got two egg breakfast burritos and two drinks.
Ziggi's couldn't have made their grand opening at a better time. While the local Starbucks (506 Castle Pines Pkwy Castle Pines, CO 80108) is currently out of commision until May 4, Ziggi's is eating up the competition.
"I didn't even know that Starbucks was closed; that's how much we've been to Ziggi's. Every day that we've driven past Ziggi's there's a long line in the drive-through," Ali Merritt '22 said. 
If you need a change from your bland coffee at home, Ziggi's is the place to go. To stay safe and to follow social distancing procedure, all of Ziggi's employees wear masks, even at the drive-through. 
Ziggi's is a Colorado company. They are partnered with Coda Coffee, roasters and suppliers in Denver, CO. The co-franchise owners are all Colorado natives who live closeby to run the building in Castle Pines.
"Once you try Ziggi's, you're hooked. I think a lot of people would say that our food and service and the quality of drinks that we deliver is superior," co-franchise owner Matt Wiley said.
Ziggi's will be opening as a cafe after the self-isolation and will have tables for groups as large as ten and an outside rock fountain.
"I don't think competitors provide that community and quality product as well as service," Wiley said.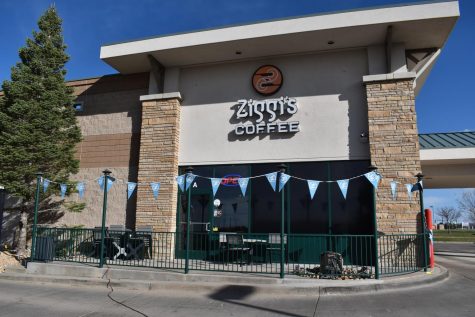 Their variety of drinks range from caffeine-filled Red Bull Infusions to mom and kid-appeasing "The Kidzone". Under the different categories of specialties: Red Bull Infusions, Blenders, Fruit Smoothies, Alternatives, Classics, Italian Sodas and the Kidzone; you could try a different drink every day for two months and still have more to try. 
I found the Raspberry Truffle Blender to be really delicious. The first sip was a fresh taste of raspberry followed by a subtle white chocolate that wasn't too overpowering. It was very rich and creamy as opposed to having every sip being chock-filled with ice bits.
"I can't say I have a favorite because so far what I've had has all been amazing. I think it's really cool that they were able to open in the middle of everything going on. I really love the Caramel Macchiato and the blended drinks are great too. I think that once Starbucks opens there will definitely be competition but I think that people like having options and that both can still thrive," Maddy Merritt '21 said. 
The sizes of cups for your drink goes from 12 oz (which is equivalent to a Starbucks 'Tall') to 32 oz (20 oz matches with a Starbucks 'Venti'). Each cup size increases by an interval of 4 oz. While the ounces rise, so do the prices for each category of drinks.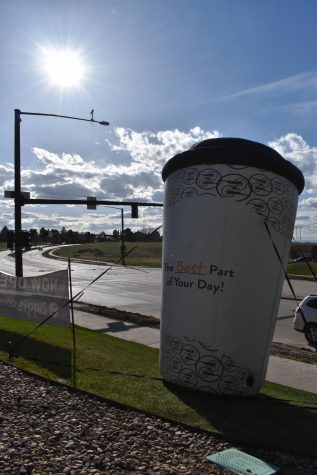 Specialties:
12 oz – $4.20

16 oz – $4.70

20 oz – $5.30

24 oz – $5.75

32 oz – $7.25
Red Bull Infusions:
20 oz – $5.35

24 oz – $6.40

32 oz – $7.35

Add 40¢ for cream
Blenders:
16 oz – $5.60

20 oz – $6.10

24 oz – $6.60

32 oz – $7.75
Fruit Smoothies:
16 oz -$5.05

20 oz – $5.60

24 oz – $6.10

32 oz – $7.75

Add $1.00 for a scoop of protein powder or vanilla
Italian Sodas: 
16 oz – $2.50

20 oz – $2.80

24 oz – $3.20

32 oz – $3.75

Add 40 ¢ for cream
If you would like to skip the line for a drink, you can order ahead of time with the Ziggi's Coffee mobile app available only to iOS devices in the App Store. The app gives you the ability to order using voice. It also allows you to customize your drink by choices of milks and creams, add-ons for extra shots of sauces and scoops; amount of whipped cream, special flavors and whether or not you want your drink to be iced. The app only applies to the drink menu.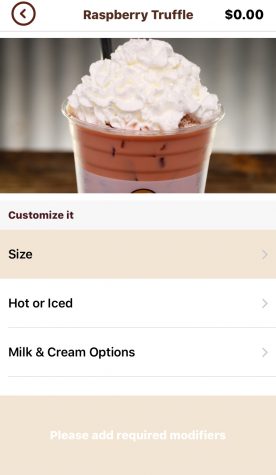 I think that ordering with the app is a very smart way to go about things if you're running on a tight schedule. I remember sitting in Starbucks for nearly 20 minutes waiting in line and for my drink to be made when I saw Hanna Shear, Key Club sponsor and Spanish teacher walk in, grab a couple of drinks and walk out. I was almost late for school that day. So ordering beforehand and having your drinks ready to go would be useful for the impatient or busy-bodies. 
To go along with your drink, Ziggi's offers different kinds of breakfast burritos, breads, breakfast and lunch sandwiches, scones, cookies, vegan donuts and salads. All come with gluten-free options. 
My mom and I favor the egg burritos. They come through the window hot and ready-to-eat with the option of salsa on the side. The eggs and potatoes wrapped in a tortilla are never raw and always piping hot. It's delicious to eat for any meal. 
"I like to order the bean and cheese burrito because it has an overload of cheese which is so good and somehow balanced to the bean part of the warm tortilla," Ali Merritt '22 said.
As it's motto promises, Ziggi's is sure to be "The Best Part of Your Day."
"Ziggi's should be the best part of your day – it should be the highlight. Whether it's in the morning, whether it's for lunch, whether it's in the evening, we have a wide selection of items. This location will have a cafe that will be open to full families," Wiley said.
I know it makes my day when my mom and I go out to get Ziggi's. Especially for this past and the next few weeks it's just nice to see the sun and this business bloom. I recommend this to anyone who loves coffee or smoothies or has little kids/siblings. Ziggi's is worth the price for the flavorful drinks and the tasty treats. Check out the website here.