Biden Supporters Celebrate a Presidential Victory
After five days of waiting, America had their result. To celebrate President-Elect Joe Biden's win, students took to Denver.
Saturday, Nov. 7, 2020, former Vice President Joe Biden won enough Electoral votes (over 270) to become the new president of the United States. After a five-day-long election, due to voting counts being delayed in many states, a new president was finally elected. 
Biden supporters throughout the country took to the streets to celebrate. From DC, to Los Angeles, to New York, to Atlanta, and Denver, people filled the streets. 
To begin the day in Denver, speakers at Cheesman Park celebrated the results of the election. One speaker was Tay Anderson, a Democrat who is the director of the Denver Public School Board. Anderson also led multiple Black Lives Matter protests in Denver this summer. Another speaker was Iman Jodeh, a Democrat just elected to represent District 41 or the Aurora District, in the House of Representatives. In addition to being elected, Jodeh became the first Muslim women to be elected as a Representative in Colorado. 
Jodeh was not the only woman of color to make history this election. Kamala Harris, Biden's Vice Presidential pick, will be the first female, African-American, and Indian-American Vice President in American History.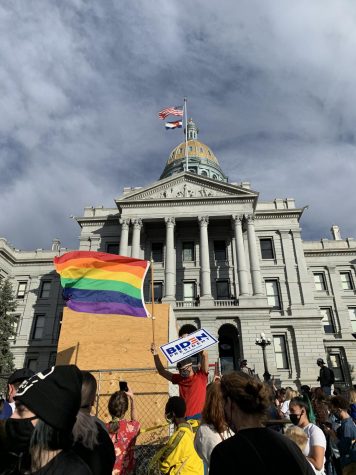 After the speakers finished around 3 pm, the party headed to the Capitol where the music and dancing began. People gathered with high spirits by singing and dancing to party for the new president elect. The supporters then marched through the streets of downtown Denver with chants, music and cowbells ringing through the air. Signs and flags soared in the sky. Passing cars honked their horns and it was all high spirits.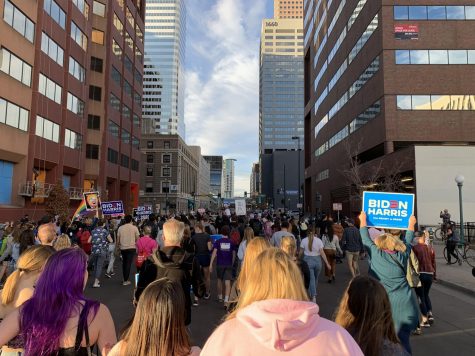 "It was really fun and full of excitement. Everyone was in such a good mood and it was just overall such a great experience and day," attendee Grace Vaughan '22 said. 
Even with the celebration, Donald Trump has yet to concede the presidency, as he and his cabinet are pushing legal cases in many states such as Georgia and Pennsylvania. However, all signs, such as leaders of other countries congratulating the President and Vice President-elect on winning, are pointing to a January 20th inauguration for president-elect, Joe Biden, and vice president-elect Kamala Harris.