How To: Throw a Zoom party
Zoom! Not the sound of your car on your way to a party, but the name of the online platform you can use to throw a party with your class virtually.
Laughter, games, and social interaction– everything needed for a great party… but make it online! A Zoom party is a great way to connect during Covid. It is a way to be able to talk with your peers in a friendly and more fun environment than school.
President of the orchestra leadership council Lilliya Larson '21 organized a Zoom party for each orchestra (freshman, string, and chamber) to all attend this weekend.
"[I am most excited] to see everyone's faces. That's a pretty scarce commodity in person nowadays, and even though it's not in person, it's better than nothing… I've actually hosted a zoom party before with the Denver Young Artists Orchestra… we all played Jeopardy as a whole, and overall I feel like it was a successful experience," Alex LaMotte '21 said.
Below is a step-by-step guide to help you plan a Zoom party with your favorite class (or classes!) with information from Lilliya on how to best run a successful event.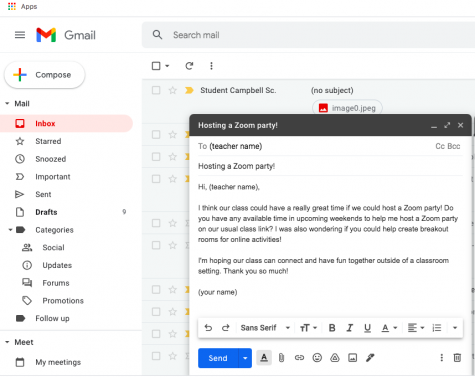 Step 1: Find a teacher sponsor
When organizing a Zoom party, you should seek out the sponsorship of a teacher. Finding a teacher who is interested in co-facilitating this event with you allows for a seamless Zoom party.
"First and foremost, throwing a Zoom party would not be possible without Mr. Dale's help," Larson said. "We will all log in to a Zoom link sent out by Mr. Dale."
This teacher may help guide the group in conversation.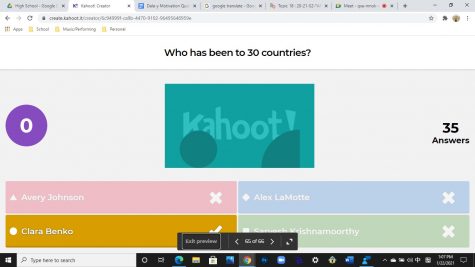 Step 2: Create virtual party activities
The easiest way to go about a Zoom party is creating breakout rooms. To help keep the Zoom organized, try to find a few friends to be "leaders" in different breakout rooms and host different online games. Some game ideas to include in your party breakout rooms are Jackbox games, Kahoot, Psych!, and Telestrations.
"I put together a Kahoot with get-to-know-you questions for each person so we can learn fun facts about other members of the ensemble."
To make a get-to-know-you Kahoot, you can make a Google form with questions you intend to put in the Kahoot, share the link with your class during a Zoom call (with teacher permission), and get everyone involved!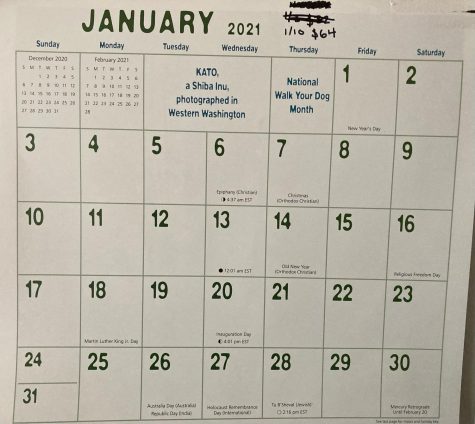 Step 3: Set a date and time, and get your word out!
When choosing a date and time, planning a party that will take place outside of school hours might work best because it won't feel like it's part of the school day, and teachers don't have to sacrifice class time.
"People are incredibly busy during accesses and school hours, including Mr. Dale, who I need to help run the party… 7:00[pm] was an after-dinner time that wasn't too late, and it avoided most conflicts," Larson said.
Ask your teacher if you can announce your party during class, or if your teacher wouldn't mind letting everyone know about it.
That's it! Throwing a Zoom party an opportunity to have fun with friends and classmates in a safe but non-scholastic setting, so give it a try! Stay tuned for an article next week with coverage on the orchestras' Zoom party this weekend!