The Band Tee Epidemic
Now that the Coronavirus has been around for a year, there is a new epidemic going around, The Band Tee epidemic.
You are walking the halls of Rock Canyon, looking all around you. The halls are filled with students walking from class to class. Everyone's outfits seem the same, except for the one shirt that catches your eye. It is a shirt with lips and a tongue sticking out: the iconic Rolling Stones logo. 
Over the last year, there has been an increase in students wearing band shirts at Rock Canyon High School. Whether it is Rolling Stones, Nirvana, Led Zeppelin, or Sublime, it seems like you can't go a day at school without seeing one of these shirts.  
So why are all these people wearing shirts from bands who made music 20-50 years ago? Is it because their music is making a revival among high school audiences? Or do students at Rock Canyon just love the vintage look? The answers are all over the board.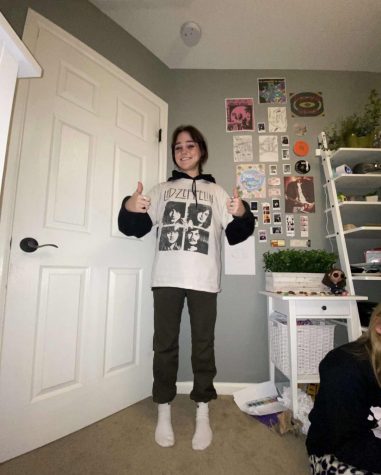 "The band shirts I own are Nirvana, Led Zeppelin, The Cure, Jimi Hendrix, and Kurt Cobain" Camdyn Modica '23 said. "I like to buy shirts involving music because it is one of my biggest interests and I think that it is cool because it can start conversation if someone listens to the same music as you."
As a classic rock enthusiast, Modica collects band t-shirts as a way of expressing her interest in the music and showing off her appreciation for her favorite bands. 
"I only buy shirts from bands I listen to because if I didn't listen to the artist that would be embarrassing," Modica said. 
Additionally, Eddie Hein '21, who owns t-shirts from Pink Floyd, The Grateful Dead, and The Rolling Stones, also enjoys listening to the bands' music as opposed to wearing the shirts solely to look stylish.
"I bought them because the shirts were different than most others and I was intrigued with the colors, especially the Dark Side of the Moon Pink Floyd Shirt" Hein said. "But I do really like all their music. I listen to a lot of it and really like the more mellow songs from those bands because it helps me to focus on schoolwork when I am doing it because it is not too hype."
Adding to this pattern, Michael Minnick '21, bought his Rolling Stones and Wu-Tang Clan because of his appreciation for their sounds.
"I listen to both of the bands. They aren't my all-time favorite bands but still very enjoyable. My favorite Rolling Stones song is "Gimme Shelter", and my favorite Wu-Tang Clan song is "Method Man"' Minnick said. 
However, the band tee craze at school has not only been ignited by fans of these classic artists and groups. There are many students who wear such shirts with the sole intention of putting together a vintage look for a day at school. In fact, many students who wear band tees to school are not familiar with the songs or histories of the bands at all.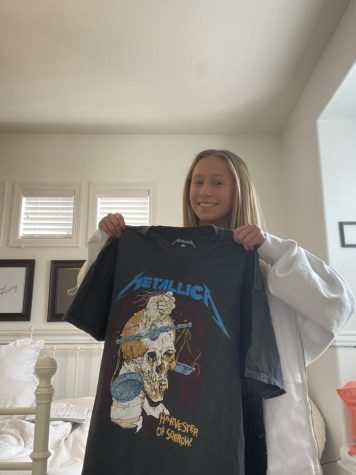 Sarah Jenkins '23, owner of Metallica and Rolling Stones shirts, loves to wear them because of their distinct look and growing popularity.
"I bought them because band shirts are super trendy and easy to style with pretty much anything. I don't listen to the music, I just wear them for fashion purposes." Jenkins said.
For some students, school fashion is an important part of being a student. Planning out outfits to wear a day in advance, and making sure the pieces match can be crucial. The vintage look has become increasingly relevant over the past year or so, and it has evolved into a mainstream part of high school fashion, even for those who are not captivated by the history and significance of the vintage clothing that they wear.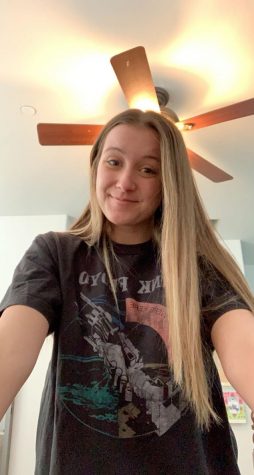 "I actually bought it for a band-themed spirit day at school thinking that I would only need it the one time, but then I actually liked how it looked and started wearing it more and more," Emily Glynn '21, who thrifted her favorite Pink Floyd shirt, said.
Although she does not actively listen to classic rock or Pink Floyd, Glynn says that she is familiar with the band's most popular songs, such as "Wish You Were Here" and "Comfortably Numb". 
"I will probably get some more [band tees] soon" Glynn '21 said.
She enjoys the style that the shirt provides, and plans on adding to her wardrobe. 
Ultimately, the band tee takeover at Rock Canyon has been charged for a wide variety of reasons.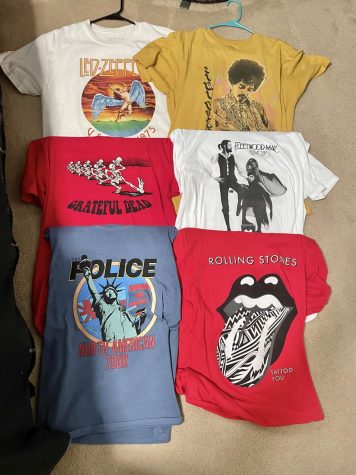 The rapidly growing popularity of classic rock and alternative rock music among students at the school shows a revitalization that proves the timelessness and lasting impact that this music has had on teenage culture.
Those who wear the shirts mainly for the look highlight the powerful impact that fashion trends hold within the high school community, and emphasize students' aspirations to look their best.
No matter the reason why an individual student may roam the halls of Rock Canyon in a Led Zeppelin or Grateful Dead shirt, there is no denying that the band tee is back in full force. 
As long as Rock Canyon students can share their love of music, or feel confident strolling from class to class, the band tee epidemic is one that does not seem to grow old.