Superior on the Slopes: Q&A With Skier and Student Adrienne Markey
From the hallways of Rock Canyon High School to the powder white mountains of Colorado, Adrienne Markey is able to balance her passion for skiing with being a successful student.
 White snow cascades onto the side of the mountain. Then here comes a sound. Whoosh. A skier slices through the powder and down the hill. The skiers race down the mountain, gaining and gaining speed. Until finally, snow flies up everywhere. They've stopped. They've reached the bottom.
This is a typical winter for Adrienne Markey '21. 
Markey's winters consist of living in the mountains for the winter season and hitting the slopes every day. She skis on a competitive ski team every year. She has been skiing for sixteen years and competitively since sixth grade.
Markey shared an inside look at her life on the slopes:
Q: Who do you ski for? 
A: "I ski for Winter Parks Competition race team" 
Q: How serious is it? 
A: "When I first began, it was pretty chill. During sophomore year, I joined a full time academy, so I was skiing six days a week. For sophomore and junior year, I lived in Winter Park for the 3rd quarter of school. So, it was pretty serious. For competitions, it was fairly competitive because I was skiing against D1 kids and everyone is just trying to qualify for other competitions."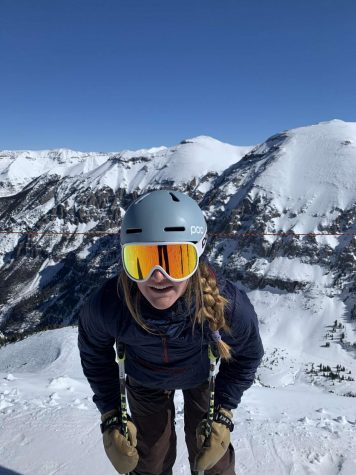 Q: How has skiing shaped your life? 
A: "Skiing is the most amazing thing ever. It has allowed me to meet some of my best friends. It has given me so many memories. It has taught me to drive and advocate for myself. I tore my ACL my sophomore year which taught me also how important it is to not put all my eggs in one basket but overall it has been the dopest thing ever" 
Q: What has your season looked like with Covid-19? 
A: "It changed a lot this year. We couldn't ride to competitions together or stay together. We didn't have a locker room or anything. They also split the races across many days. Another thing was we were supposed to go to Australia, but it got canceled." 
Q: What's a normal winter look like? 
A: "In a normal season, the season usually starts in June and we go to California or Norway. It is a lot of dry land training over the summer. Then, skiing starts in late October. Competitions usually start in December and go through April when the season ends. It is six days a week of practice plus school. We also travel around a lot." 
Q: Are you thinking about skiing in the future professionally? If not continue for fun? 
A: "I am probably just going to ski for fun in the future. Maybe I will ski for the CU big mountain team but I doubt it." 
Q: What is your favorite memory from skiing?
"A: Wow. My favorite memory skiing was probably Mammoth summer camp where it was ten days of skins and we road tripped from Colorado to California. There were sketchy motels and great skiing, so overall an amazing experience."