Playoffs? We Talking About Playoffs?
Jaguar Football makes history, wins their first playoff game against Smoky Hill in a down-to-the-wire 52-49 nail-biter
Rock Canyon took on Smoky Hill in the first round of the playoffs Friday, Nov. 5 at The Stutler Bowl. The Jaguars came into the game ranked nineteenth looking for their first playoff win in school history, while Smoky Hill was ranked fourteenth. 
The game was a thriller. 
"The game was crazy. Everyone's mood was so high and it was so entertaining," Aidan Brock '24 said. "People were having such a good time and the game was so much fun to watch."
Smoky Hill stepped out to an early lead at halftime being up 20-7. 
"The energy at halftime really shifted to our sideline and once the crowd got involved we knew we were going to win the game," defensive player Cooper Chase '23 said. 
With some halftime adjustments. the Jags outscored Smoky Hill 45 to 29, rushing for an incredible 487 yards behind top offensive line play in the second half. After a rally of touchdowns, the game was tied with less than a minute left. 
Quarterback Cole Dreyfuss '22, running back Croix Burney '22, and tight end DeAndre Horn '23 led the team down the field in the game-winning drive.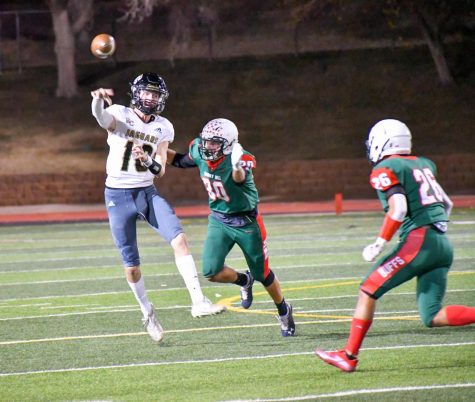 "There were definitely some nerves going into the final drive, but I wasn't questioning if we would score or not, it was a matter of when," Dreyfuss said. "Our offensive line was playing one of their best games and our running backs were running hard. Everyone on the offense was doing their job." 
After a few successful runs, the offense was set up at the one-yard line with less than ten seconds left. Kicker Breck Saenger '23 took the field with a chance to win the game. 
"I was super confident going into the kick and I knew I needed to hit it through and not let anyone down," Saenger said. "I needed to score for our school." 
Saenger put that all behind him and drilled the game-winning kick with no doubt. 
"Once I kicked it, I knew it was good," Saenger said. "I was so hyped that I ran straight to the crowd and slipped and fell back on the concrete."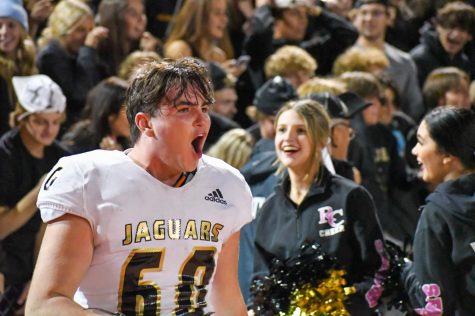 The Jaguars won. 
They upset the fourteenth seed in a game that went down to the wire winning 52-49 on Saenger's game-winning field goal. 
This was the Jaguars' first football playoff win in school history. 
The momentum doesn't stop here. The Jags will compete against Legend Titans, tomorrow, Nov. 12 at Echo Park. Legend is ranked second in the state.
"We need all of your guys' support and school spirit. The crowd keeps us in the game and keeps us motivated. We are all Jaguars," Chase said.