Last Person Standing
The game that took the senior class by storm comes to the end as Aidan Hughes '22 is crowned the Winner of Senior Assassin.
Aidan Hughes '22 jumps out of his car. Gun in hand, he runs towards his target. He sets. He aims. He fires. Hughes hits the shot. He assassinates the final player of the game, tallying his ninth kill. After four months and over a hundred assassinations later, Hughes won the game-and $450 of cold hard cash.
"It was really surprising at first because the game had been going on so long, but it was super exciting that I won," Hughes said. 
Tiffany Lahey '22 created the game of Senior Assassin to have an all-inclusive game that all seniors could play. That is exactly what she got with over a hundred players all in the game. 
"I think the game was super successful! It brought our class together, and I think everyone had a lot of fun," leader of the game, Tiffany Lahey '22 said. 
Instagram feeds were filled with senior assassin games across the nation. Simply, it is an advanced game of tag. The basis of the game is that every participant is assigned a target they have to try to assassinate. If they shot their target, then the target's target was then the new objective.
Check out this story here for more information about the rules and explanations. 
Students ducked and deceived, trying to evade being assassinated at sporting events. They ran to their cars after work to avoid any chance of being shot. The game heated up second semester with assassinations coming left and right, every day. As the player pool went down, the skill level went up. 
Soon after, incentives went into effect such as "No-Goggle Thursday" where the goggles that would protect you from being killed no longer protected you or "Your Worst Nightmare" when over Halloween weekend goggles didn't keep you safe at all. 
Still, players steered clear of their assassins. 
Then suddenly, the implementation of a game-changing rule.
Free. For. All
30 participants remained as of Dec. 16 and anybody could eliminate anybody. 
"I think when it was everybody for themselves, it got much easier because anybody was a target. When we had specific targets it was much more difficult," Annabelle Martin '22 said.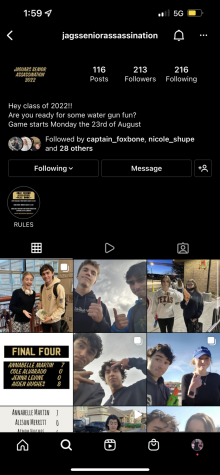 28.27.26.25… the amount of players continued to dwindle and dwindle. 
Everyone working towards the same goal. The grand prize. 450 dollars. 
"When I heard about the prize, I was super ecstatic because it was so much money and I was one of the final four participants left," Jenna Levinee '22 said. 
Finally, Dec. 30 an ultimatum was put into place. Whoever had the most kills on Jan. 14, won the game. 
Days passed and the game was down to the final four. 
Hughes had eight kills and Martin had seven kills. 
"Once the person who ran the game decided to add the deadline, Annabelle and I were constantly trying to surpass each other with eliminations. Eventually I got the final player which tipped the scale and allowed me to win," Hughes said. 
The game ended. Hughes had nine kills…Martin had eight. 
"Even though the game didn't end how I wanted it to, I still had a super good time. It was super fun and I really enjoyed meeting all the new people along the way," Martin said. 
Jumping out the car, Hughes takes sight of his final target. He shoots and hits him. Another kill. Hughes did it. He won the game. 
After four hard months of strategizing, eluding, and shooting a water gun, he finally had his rest, 450 dollars richer as well. 
"To win the game, I really had to utilize my classmates' information. Everyone always knew something about someone else and getting that information would eventually allow me to get an elimination," Hughes said, "Another key to winning was to understand how much information your peers could use against you and limit the information they get." 
Lahey hopes to pass the account down to a student in the class of 2023 to keep the game going next year. 
"I really hope to pass the account to a new senior in the class of 2023! I hope they will do the same and pass it on to the class of 2024," Lahey said.