Start the Season of Giving Early
Interact Club is looking for dresses and costumes to donate to the less fortunate.
A closet sits full to the brim, old outfits shoved to the back. An open dresser drawer reveals overflowing clothes stuffed like sardines in a can. So many garments, unused and uncared for, just taking up space. Many people are guilty of collecting clothing, but how to get rid of it all?
"A lot of us wear things like Homecoming and Prom dresses or Halloween costumes only once, but this is an opportunity to give them a second chance to make someone's special day," President Katie Dupper '24 said.
Interact Club is partnering with Rylie's ARK to offer a solution: from Oct. 1 to Oct. 28, the club will be collecting Halloween costumes, and for the entirety of the school year, they will accept donations of Homecoming/Prom dresses. 
"Both events are partnered with Rylie's ARK, an organization dedicated to small acts of kindness. The dress drive, called the 'Be Happy Boutique,' is perpetual, as we will be accepting dresses throughout the year," Interact Vice President Kaeli Nallathamby '24 said. "The Halloween costume drive, the 'Halloween BOOtique,' will end Oct. 28 so that we are able to donate the costumes before Halloween. They are both donation drives for gently used, but clean, clothes to provide dresses and costumes to those in need."
 "We felt this project had a need our community will be able to fill very well. We also decided on these projects because we felt we wanted to action in helping those around us, since Interact is a service club," Nallathamby said.
Interact Club is a Rotary International-sponsored high school-level organization. It aims to take action with both local and global issues, and to build awareness while providing members with strong relationships and community service hours. The club meets before school every Monday morning at 7:15 a.m. in room 9100 with club sponsor and biology teacher Mindy Moss.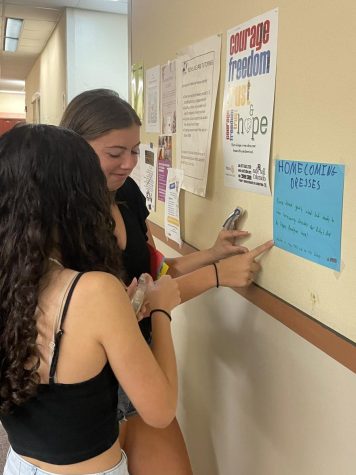 "Interact Club makes me feel so happy," Dupper said. "It is a great way to start your days seeing people who want to do good things. Riley's ARK inspires us through their optimism and commitment to kindness, and we wanted to engage our local community at Rock Canyon for a great cause. It is super easy to donate and the garments will go to kids who deserve them."
Donated items can be placed in the boxes available in room 9100 or the library. Donations can also be given directly to any club member.
"I'm thinking about [donating]," Anya Lossman '23 said. "I tend to save my money or spend it on experiences rather than material objects, so I don't buy a ton of clothes, but I think it's important to donate clothes because, especially if you don't wear them often, there is always someone in need or otherwise who would appreciate having them."
Updates from Interact Club can be found on their Instagram page, @rchs_interact_. Text @c8c4ah to 81010 to join the club year-round.