What to Know About Winter Sports
It is time for winter sports, so here is everything you need to know.
The beginning of January means the beginning of the new sports season. "Season B" is set to start with practices on January 18th and competitions beginning on January 25th. Season B sports include girls basketball, boys basketball, ice hockey, spirit, girls swim and dive, and wrestling.  
"Unfortunately at this time spectators will not be allowed at Season B events," Mr. Brieske said. 
After a drought of playing, after CHSAA pushing back the season, athletes are finally able to get back to competing. This is with strict rules though due to COVID. 
"We are excited to get started with season B and our student-athletes and coaches have been preparing for it to the best of their ability," Mr. Brieske also said, "There has been some pretty strict protocol that they have all had to follow and therefore it hasn't been a normal off-season or pre-season.  Once the season officially begins on January 18th, the in-season teams will get to do a lot more than they've been able to, though they will all still be under strict practice and game protocols." 
Even with the new rules, athletes are ready to get back, so here is an overview of the upcoming season. 
To learn more click here to visit CHSAA's site. 
Girls Basketball: 
For girls basketball, the team has 14 regular-season games. There will be a 32 team tournament for playoffs. Players have to wear masks during all games. The finals for girls basketball will be March 19 and 20th. 
"I am really looking forward to getting to play with new people and face new competition. Due to corona, we have a shortened season, have to wear masks while we play and we have limited rosters." Olivia Barrett '24 said. 
Click here for the girls basketball schedule.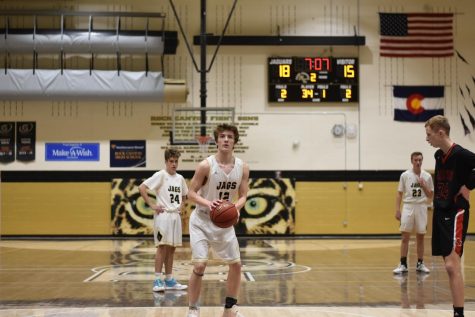 Boys Basketball:
Boys basketball is going to follow a lot of the same guidelines as girls basketball. They will also have a 14-game regular season with a 32 team tournament for the playoffs. They also have to wear masks. The finals for boys basketball will also be March 19 and 20th. 
"I feel pretty good. We have a solid team and have strong hopes," Devon Morris '22 said, "With Corona, we just have to adjust how we practice and there is reduced flexibility within the sport especially because of new rules like how we have to wear masks." 
Click here for the boys basketball schedule. 
Ice Hockey: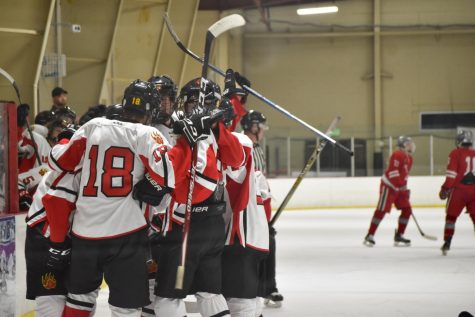 Hockey has a 13-game regular season. 12 of the 13 games will be played against teams in the same league. The regular season ends on March 11th. The playoffs will be a four-team, "Frozen Four" tournaments 
"I'm really excited for the upcoming season considering we haven't played any games in over two months. We are going to have a really strong team this year," Jack Chandler '22 said, "Due to COVID, we are required to wear masks under our helmets at practice and instead of getting dressed in the locker room, we have to get dressed spread out on the edge of the arena."
Click here for the ice hockey schedule.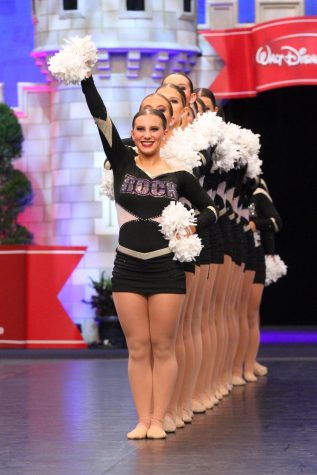 Spirit: 
Spirit, such as cheer and poms will be performing during season B. They will be cheering on the sideline for other season B sports, such as basketball. They will also be having competitions of their own. Masks will be worn at all times except during performances at competitions. At the sidelines of games, they will all be socially distanced. 
"I'm feeling excited but also a little nervous for the upcoming season. We've had our team for so long but we haven't really been doing much because we weren't allowed to practice at school. I think things are going to start picking up really fast which is exciting," Bethany Detwiler '22 said, "because of Corona we weren't allowed to practice at school until now and of course we had to wear masks and socially distance at practice. We don't have to wear masks while performing at state which is really good." 
Girls Swim and Dive:
Girls swimmers and divers will be back in the pool for a seven meet regular season. The season ends on March 6 and the State Meet will be March 11 through 13. There will only be 20 swimmers per event at State. 
"I'm super pumped for the swim season! It will definitely look different than previous years but I believe being flexible to new things will make it even more fun. We are going to be really good this year, our 200 medley relay will be insane this year. I'm looking forward to take leagues and possibly even state," Mandy Fleetwood '22 said, "This season will look drastically different just as every other sport. Practices and meets will be a lot smaller and more limited. We also can't invite friends which is upsetting." 
Click here for the girls swim and dive schedule. 
Wrestling: 
Wrestling will have a 20 dual regular season. Regionals will be a 16 man bracket and will take place over a span of two days. The state tournament will be an eight-man bracket and will take place over just one day. Only first and second place from regionals will qualify for state
Click here for the wrestling schedule.