Defying Limits and Overcoming Injuries
The factors of recovery that athletes face after injury.
Hours of practice and technique work to get every single detail right for when the competitions start. The efforts of athletes to prepare for the chance to prove themselves through their performance.
Athletes put in hours of practice and training to perfect the details of their sports. Physically, they are ready for anything that can come their way. 
That can all change in an instant. 
One game, one wrong move, one injury. Athlete injuries come with the sport and many athletes across the board have experienced injuries. Elite high school athletes put their bodies through hours of practice for the chance to compete at the collegiate level. 
Injuries aren't expected. It may be their first time, or they may be veterans and have re-injured the same part of their body because of their sport. 
Varsity swimmer Abbey Gardner '23 has dealt with a multitude of injuries throughout her swim career and has learned the ups and downs of being hurt in the process of recovery. 
"Over the past few years, I have had multiple injuries, including issues with my shoulders and ankles," Gardner said. "With my shoulders, around the age of 13, I got diagnosed with multi-directional lateral instability. In my sophomore year, I fractured two metatarsals in my right ankle and then later tore a ligament in the same ankle. In my junior year, I chipped three bones and tore a ligament in my left ankle. My senior year, even though it wasn't fully a physical injury, I detached my retina in my left eye, which took me out of the water for close to two months." 
Learning to rebuild strength not only physically, but also finding the time to recover mentally, takes time and can be a long road. 
"Being injured, I realize how difficult it is mentally and physically to stay focused," varsity girls soccer captain Addie Vali '23 said. "I have been in pain for two weeks, on so much medicine, walking on crutches and sleeping in a brace."
"
It is physically draining on your body to try and keep the body part that you injured safe and heal safely. "
— Addie Vali '23.
Vali fractured her tibial plateau, sprained her anterior cruciate ligament (ACL) and tore her meniscus while playing against Vista High School. She's expected to be out for two to three months.
The ability to find a routine that fits with an already packed schedule can be hard to maintain, and student-athletes have to find the balance between the two.
"After being injured, the hardest thing to come back from is the physical weakness you feel in that certain area of injury and the mental side of it all," Gardner said. "The physical weakness adds extra time to an already jam-packed schedule to attend physical therapy and execute proper exercises to recover." 
The mental effect of an injury can be an entire separate process. Despite being physically fit and healthy, the fear of getting re-injured can be detrimental to an athlete getting back to reach their full ability again. 
"The mental mindset that an athlete has during an injury truly will make or break if they can get back to their full potential and level of competition before the injury. Personally, I constantly had to remind myself of my goals that I set and how badly I desired to achieve them," Gardner said.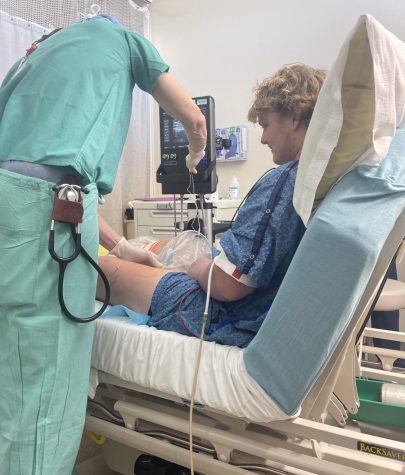 Varsity lacrosse midfielder Drew Gilbertson '23 has torn his ACL three times over his high school career in sports.
Gilbertson was a four-year varsity football middle linebacker, played on varsity lacrosse his freshman and junior year, and is the varsity boys lacrosse captain for the current season.
Little reminders to push through and trust yourself is sometimes all that an athlete needs.
"You want to prove to yourself you can still do what you love," Gilbertson said. "You just have to trust yourself and how you prepared yourself to get back to where you need to be." 
An injury is personal and specific to one person. They must relearn how to understand their body and find the correct way to treat their injury to come back fully. 
Varsity girls soccer defender Charlotte Strabel '24 broke her ankle while playing a club soccer game and was told she would be out for four to six weeks, however, she returned after three weeks. 
"I broke my ankle during a club soccer game and it was very strange. Because of my injury, I didn't have much pain and it was really frustrating because I was like, I want to get back, but my ankle was physically so big and swollen, it was black and blue. I just physically couldn't come back. It was an extremely frustrating process," Strabel said. 
Physical therapy (PT) is a major aspect of recovery and can range from just a few weeks of appointments to months of work. 
"I did PT for roughly seven months after surgery for each of my injuries," Gilbertson said. 
Not only doing exercises during appointments but also in personal time outside of therapy can impact recovery and performance. 
"Sometimes, I would take a few days off of PT exercises and stretching and would find myself in a hole of almost being injured again," Gardner said. "I still constantly check up with my physical therapist, who also offers a 'recovery center' that I utilize multiple times a week. I know what my body needs and it is crucial to listen to it." 
According to the Sports Medicine Center at Children's Hospital Colorado, "We're trained in children's sports medicine, we recognize that an injury could impact growth. Similarly, we understand growth might impact rehabilitation. Careful evaluation of these factors helps us craft age-appropriate care plans for each athlete's unique situation." 
"Everyone's so focused on getting re-injured, and if that's your mindset, you're most likely to get hurt again. Doctors wouldn't release you to play if they didn't think you recovered fully so you just have to trust your body and play confidently," Vali said. 
Athletes who haven't been injured may not understand the surges of grit, determination and motivation it takes to get back. 
"No one understands the mental challenge it takes to come back, especially after [injuring the] same thing multiple times. You spend all this time trying to heal and make yourself better, and once it happens again you feel like a failure," Gilbertson said. "Having to do the same process over and over makes you feel crazy. But, reaching your goals makes it worth it. A lot of people would probably shut down but I know I can't give up."
The road is long and the obstacles are challenging, but a positive mindset can help lead to success. 
"
"The obstacles I have faced are uncountable and usually unpredictable. A positive attitude can completely change how you recover from an injury and that's the best advice I will tell anyone who is injured. Keep pushing and yes, an injury will test your love for your sport, but at the end of the day, you will find the truth and usually it will motivate you to get to the next level."
— Abbey Gardner '23.