Lady Jags Reclaim the Jungle: How Volleyball Has Bounced Back
How varsity girls volleyball has worked to beat the odds.
Stopped practices due to quarantines. No court side-switching between sets. Games and practices breathing through a mask. No home gym due to flooding – meaning no consistent practice space or schedule and no home games, no fans, no home court advantages. It's been two years that the girls volleyball teams' routines have been disrupted. 
But not this year. 
For the first time since 2019, the volleyball teams are finally able to return to their home courts and old routines. Despite the challenges of last year's season, the varsity team made it to the second day of the 2021 state championship, and now, with unusual disruptions removed, eyes are on them to see how they will do.
They swept Arapahoe High School Aug. 18 for their first game, meaning every team – freshman, sophomore, junior varsity (JV) and varsity – won all of their games. Varsity won their first set 25-16, their second set 25-18, and their third and final set of the night 25-17.
"It was our first game, so of course there were nerves, but I felt like we all showed up towards the end of the game, and we were able to pull out with a win," varsity captain and setter Addie Waller '24 said. "It was a good game, but there's more good to come. We haven't played in our own gym since pre-pandemic, in 2019, when I was in 8th grade, so it's been forever. We're definitely still developing as a team, but I'm proud of my team and how we performed, and having everyone back in the gym this year is gonna be super fun and so hype. First win of many, hopefully!"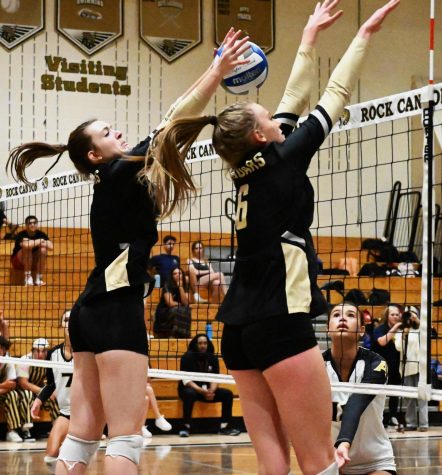 Player of the Match, varsity captain and middle blocker Audrey Rea '23 agreed.
"Fans should definitely look for our run for state this season," Rea said. "Last year we were really able to grow as a team and make it to the state championship after winning our regionals, which hasn't been done since 2016. We're already super connected with each other, and ready to not only get to state, but win it, too. It'd be great to see the same spirit for football and basketball brought to our games since so many surrounding schools live for volleyball."
The game came with another surprise: an appearance by the Golden Boys. The Golden Boys, a group of four senior boys in charge of leading student sections and encouraging school spirit, were unable to attend volleyball games last year due to the gym construction and lack of home games.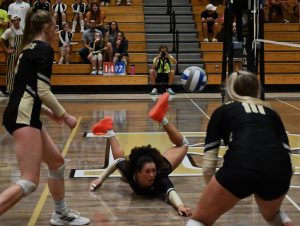 "It felt amazing [to have the Golden Boys there]. Last year they didn't really show up for us, but it was great having them here this year," varsity outside hitter Alivia Eikenberg '25 said. "Even though it was a really easy game for us, we all thought we could've played better, so we're hoping we'll have the same crowd next time, and can play a whole lot better so that even more people show up. Honestly, it overall was insane [to be back in the gym], because I've never played there before, and it just felt a lot more homey. We had a lot more people come than we do when we play away."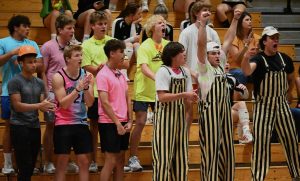 The home section was filled with students dressed in neon pinks and glowing greens in support of the game's theme, "Neon-Out." 
"The girls were just so excited about it, and they did what they wanted to do for this game, which was to win in three," varsity coach Angela Hansen said. "It was a good first start and showed both what we need to improve and what we need to continue doing well, so it was a great start to the season. We made it to state last year, kinda going in at regionals last minute, but we're going to try to have a winning record and stay in the top ten this season. Hopefully, we'll also get more crowds coming out and get more energy to the gym, so if you're reading this, come out and watch us! We're gonna be good!" 
The Jags take on Doherty High School at home at 6 p.m. tonight, Aug. 26, in the main gym. Fans are asked to wear Hawaiian-themed clothes to show support. Tickets cost $5.00. 
Updates on the women's volleyball programs can be found on their Instagram at @rockcanyonvb. See below for this season's home game schedule:
| | | | |
| --- | --- | --- | --- |
| DATE | OPPONENT | TIME | THEME |
| 8/18 | Arapahoe High School | 6:00 p.m. | Neon |
| 8/26 | Doherty High School | 6:00 p.m. | Hawaiian |
| 8/30 | Cherry Creek High School | 6:00 p.m. | Tie-Dye |
| 9/13 | Chaparral High School | 6:00 p.m. | Country |
| 9/15 | Legend High School | 6:00 p.m. | U.S. |
| 9/27 | Highlands Ranch High School | 6:00 p.m. | Adam Sandler |
| 9/29 | ThunderRidge High School | 6:00 p.m. | PJs |
| 10/4 | Heritage High School | 6:00 p.m. | Black Out |
| 10/14 | Columbine High School | 6:00 p.m. | White Out/Senior Night |